Everyone's looking for connection.  We'll go out of our way to find it even if we're alone. We'll personify a volleyball; name him
 "Wilson" just to feel connected. My sister's in the house today. I remember driving an hour back to my parent's home after my first date with Carrie. I was going to stay with them for the weekend.  I was nineteen. My sister was still in high school.  She waited up for me to hear about the date – nobody had cell phones yet or I would have talked it all out on the hour-long drive home.  Instead, after an hour of listening to Keith Sweat or Jodeci or whatever smooth R&B I was into at that time, my sister sat up with me and listened to me gush about my first date – a connection like I'd never had before.  Oh, and sister, "Her eyes are to die for!" I said. Thanks for listening to me, Sis.  I married that woman nine months from that very night. Everyone's looking for connection.
Duncan Robb decided to surprise his girlfriend this past Valentine's Day with tickets to see her all-time favorite band, the Red Hot Chili Peppers.[1]  Not only did he think he had found a steal at just $42 a ticket, they would get to go on a romantic trip to see the concert in Belfast, Northern Ireland. His girlfriend was ecstatic when he unleashed the surprise on her about a month before the trip.  A day before leaving for Belfast, she went online to check in on the tour.  She was confused. She couldn't find a thing about the Red Hot Chili Peppers doing a show in Belfast.  She went and grabbed the actual tickets that she and Duncan had pinned to their bulletin board so they could see them everyday building their anticipation.  She looked more intently at the tickets to discover some startling news.  Her boyfriend, deeply desiring to connect with her in this very thoughtful manner, had not, in fact, purchased tickets to take her halfway around the world to see her favorite band of all time.  Instead, for Valentine's Day, they were flying to Belfast to see in concert… wait for it… the Red Hot Chili Pipers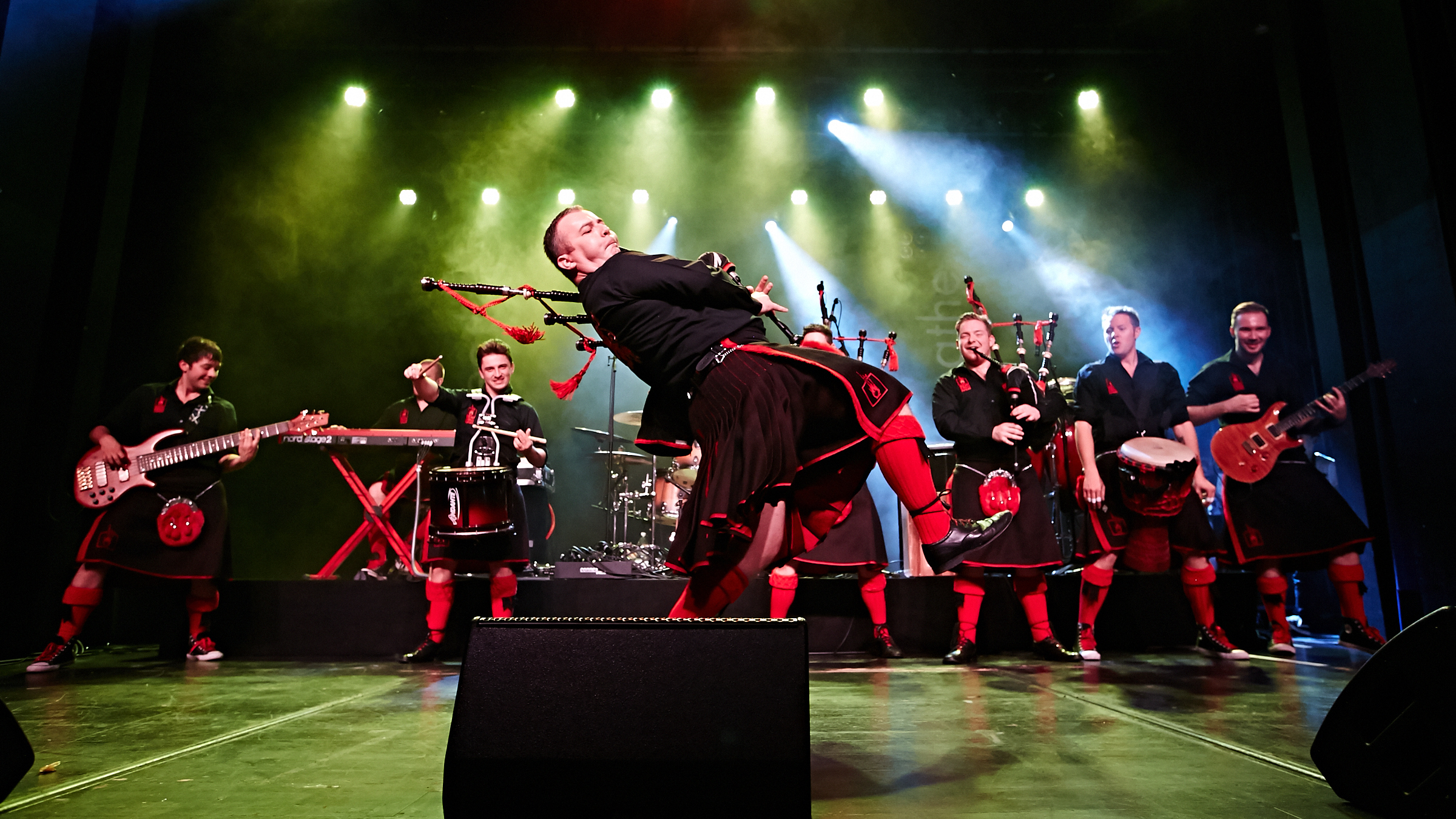 – "the most famous bagpipe band on the planet—ever!" (according to their website).  The couple went to Belfast anyway.  What else can you do?  Everyone's looking for connection.
A guy I know once said to me, "I only have five slots for friends in my life."  It was a curious statement; his way of saying, "With my family, work, and everything else going on, I don't have much time or relational energy for more than five other people." I wondered if I made the cut. Some scientists suggest we max out meaningful relationships at about 150 friends though we can recognize and remember up to 1,500 people. Face Book will let you have 5,000 friends but, for whatever reason, they cut you off there. What constitutes meaningful connection that everyone seems to be looking for?  Maybe it's something beyond the numbers.
We work hard at connecting, don't we?  And yet – as natural as that desire is – we also seem to have an inclination toward disconnecting from what we perceive to be different from ourselves. This is as old as time itself.  Stories of connection and disconnection dominate the pages of Scripture.  Today we tap into the first epistle of John – probably written by the Gospel writer, John, though some scholars suggest it could have been another early leader in the church. Regardless – this John longs for the church to be grounded in connection – connection to God through Jesus and connection to one another through that same Spirit. This was a messy reality for a church that received this snail mail from John.  It's a constant struggle.  Eugene Peterson says, "The two most difficult things to get straight in life are love and God.  More often than not, the mess people make of their lives can be traced to failure or stupidity or meanness in one or both of these areas.  The basic and biblical Christian conviction is that the two subjects are intricately related. If we want to deal with God the right way, we have to learn to love the right way.  If we want to love the right way, we have to deal with God the right way.  God and love can't be separated."[2]
John writes three consecutive letters to drive this point home.  Jesus is the key and the focus as the one who he argues lays out the full and true understanding of God. Jesus shows us the mature working-out of love.  If Jesus comes with any message – this is it.  "God and love are linked accurately, intricately, and indissolubly."  Period.  Easy and clear enough, right?  Apparently not.  We struggle like the dickens to live out such a love.  We don't always want to be pinned down to the God Jesus reveals, to the love Jesus reveals.  We want to make up our own idea of God, make up our own style of love.  John pastors this church disrupted by some people dead set on making God in their image instead of the other way around.  John pens this first letter with a passion to set things right – to get after the connection in Christ that will change the world.  He says in the opening lines, "Our motive for writing is simply this:  We want you to enjoy this [connection] too.  Your joy will double our joy!"
In this second chapter pericope – this passage of scripture – pericope (such a fun word).  It was shared the other day and a friend said, "What did you say?"  "Pericope.  It's essentially a passage of scripture – a set of verses that make a coherent thought."  He says, "Huh. I know a guy named Pericope." Anyway – this little pericope starting the second chapter launches with the word, 'beloved' – John's absolute favorite way to address his congregants. I love the way he kind of trips over the first few sentences.  He's like, "I'm not dropping a new commandment here – it's been around forever – but it's also a new commandment.  It's not, but it is."  Do you ever talk like that?  I do. It is the love of God.  How is it old and new all at the same time?  John's probably pointing to Leviticus 19:18 that says, "Thou shalt love thy neighbor as thyself."  But then Jesus comes along and says, "A new commandment I give to you: that you love one another; even as I have loved you, you also should love one another."  Isn't that the same?  Well. Yes… and no. Jesus has raised the stakes on love.  This is true in every sphere of life – a thing can be old in a sense that it has long existed but it can reach a completely new standard as someone raises the bar.  Flips and twists and such in the Olympic snowboarding and figure skating – they keep turning one more time in the air – a feat once never thought possible – now a new standard.  An old piece of music can be transformed when played by some great orchestra under the baton of some master conductor.  Mac 'n' cheese, transformed from a powder in a box into some amazing masterpiece under the genius of a master chef like Bobby Flay.
This commandment to love, to connect in the deepest of ways, became new in the extent to which it reached.  Jesus reached beyond the scope that love had ever reached before.  Love was no longer only to be shared with the healthy and morally astute and dutifully religious – it now reached to the sin-sick soul, the ritually unclean, the foreigner, the people that put a check next to the box under the religion question labeled, "None."  Love became new in Jesus because he widened its boundaries until there was no longer such a thing as a boundary.  And this just burns us, doesn't it?  We would say it doesn't, but in America – in the land of achievement?  You burnt! It's unrealistic. We don't want to be that connected to … gulp… everybody?  Mark Twain said, "Man is the only animal that loves his neighbor as himself and cuts his throat, if his theology isn't straight. He has made a graveyard of the globe in trying his honest best to smooth his brother's path to happiness and heaven."
"One of the blunders religious people are particularly fond of making is the attempt to be more spiritual than God." (Frederick Buechner). We've trusted ourselves when it comes to connection more than we trust the God of the cosmos.  If the Scriptures say that God loves without limits, then we need to take that blessing on faith. The challenge of unconditional love lies not with God but with our imperfect ability to conceive and then believe such a possibility. The notion that we are both loved and lovable is perhaps the most challenging notion that God places before us. This idea dares us not only to accept ourselves as a beloved child of God, but also to view every person that we encounter along our life's path as another sister or brother in Christ. Don't make me go there, right?  We fear the stranger – the otherness of somebody else – to the degree that we avoid them instead of seeking connection. Not only do we avoid them – we often create a narrative that says they are bad or to be feared – it's a natural defense mechanism.
I'm a big fan of the show,
"This is Us."[3] The name alone – speaks to this connection of all of humanity.  Did you see the episode this past week?  I've got some friends in the house today who are like a season behind – so if that's you – earmuffs.  Honestly, I'm not going to spoil the plot line. But there was a beautiful scene this week between
 Deja, a teen in the foster system and Randall, a child of adoption himself who has taken on the role of fierce loving care for this young girl.  Deja says to Randall in this very poignant moment after all she's been through.  "When we first met, you said I remind you of you… which I thought was just weird. You seem so different from me."  She goes on realizing that wasn't as crazy as she first thought.  She says, "But then I started thinking, isn't it weird how everyone goes to sleep at night? Like everyone on the whole planet.  All these people. People I'll never know.  Some are poor. Some are rich.  Some sleep in beds.  Some sleep on the floor. At the end of the day, everyone sleeps.  I guess, if you think about it hard – that other stuff — everyone's got too.  Things that hurt them. Things that make them feel better." And she looks at this man who has shown her love and compassion and understanding, knowing the countless beds she's slept in, and floors and cars at even such a young age and she says with a trembling lip, "I'm really tired."
Everyone's looking for connection.  As people who claim to be in Christ, we've got to live with a loving attitude toward connection with every single person as they too, are his beloved – without exception.  I know we struggle with the capacity for such love which is one of the reasons I feel we attempt to cap it.  I'll love you if… you believe the right way.  I'll love you if… you can offer something to me.  I'll love you if… you don't annoy the heck out of me.  But such is the banquet table of God – room for everyone:  the coworker who always lets his food spoil in the break room fridge. The neighbor with the loud music and rowdy teenagers. It is a spiritual discipline sometimes to make a connection with some folks.  As hard as it can be, we are called to be a conduit of grace – even there; even with them.  We won't get it perfectly every time.  We'll have some bad days where we feel and maybe shout out loud: "Can't deal today!"  But it's the writing off of the neighbor because they are Muslim or Baptist or an NRA member or Gay or Straight or an over-poster on Social Media that moves us to hate more than love.  Everybody sleeps.  At the root of our being, we are all human, created by One who couldn't possibly love us more than whomever the other from us may be.  John says quite plainly, "If you have hate for a brother or sister – then you're in the dark."  He's like, "Don't even try to play me on this one, okay?"  Don't go around saying, "I'm a deacon at my church," or put a bumper sticker on your car that says, "In case of rapture, this car will be unmanned," if you have an attitude of hate in your heart toward anyone.  When we reach a point of saying, "Okay. I'm in.  I want to be in Christ.  I want to follow him with my very best self," then we have to get this right if we get nothing else right.  When we say we are members of the Body of Christ, we are saying that we wish to follow Jesus, to serve Jesus and live as Jesus did.  What Jesus did was to offer love… to offer connection to God for the outcast, the sinner, the irritable, the less-than-savvy Bridge partner, the corny joke teller… for you… for me. And that just about blows my mind.
Love is an attitude.  Connection comes with partnering that attitude with effort.  Anne Lamott admits a tendency of frustration toward people that drive her nuts for any one of many reasons.  But she says, "When I take a break from being prickly and judgmental.  I stop, pull back, take a breath.  The next thing I know, I let others go first, or see that perhaps now is not the time to demand an explanation or an apology.  Against all odds, I'll somehow stop the campaign for now.  I start over.  I'm able to keep the patient more patient.  And I get me back."  It's a lifestyle and a lifestyle takes time to develop.  Step toward connection and you step toward living in the light.  And you just might set off a chain reaction of loving connection that saves lives – your own, a friends, even a strangers.
That was the case of a story I read this past week – sent to me by a friend – same friend that sent me that hay bale curling video last week – everybody needs a friend like that.  The story comes out of Chicago where on February 28th, twelve people met for the first time though connected in a way that, for their lives, had been forming from their very beginning – sort of like an old commandment being made new.  On that day, Kimberly Cooper and Brendan Flaherty became forever connected as Brendan received Kimberly's kidney. 
 He said, "Thank you for giving me the freedom to live my life not tied up to a machine ten hours a night." As sweet a story as that is, it wasn't intended to be that way.  Brendan thought he was going to get his friend, Phillip's kidney.  It didn't match so Brendan wound up with Kimberley's.  Philip decided to donate his kidney anyway.  On his decision, Phillip said, "I've made a lot of selfish decisions in my life.  I thought this would be a really great opportunity to kind of amend those decisions."  It turned out Phillip's kidney was a match for Clotilde Ruiz, whose daughter Daisy was rejected as her donor.  But Daisy's kidney worked fine for Scott Rial, and so it went until
 a dozen donors and recipients were matched at the same time at Northwestern Memorial Hospital.  All of them met for the first time that Wednesday afternoon.  Kimberly said, "I'm going to have a lineage to someone who's going to live on.  That's more than money and that's more than words."[4]  Everyone's looking for connection.  Are you?
It seems to me that if our organs are that interchangeable, our spirits must have room to connect with each other just as deeply – if not more so. I don't know.  Is it just coincidence that these people would share their organs with strangers?  I guess that is, in part, what makes it a news story – it's not the norm.  But, as one seeking to be in Christ, it seems we should be drawn to such connecting moments – how better for us to know and share in the love of Christ?  And I'm not saying it always involves harvesting our kidneys – but it will cost us something of ourselves – our comfort, our resources, our pride, our way.  I recently heard someone growing in wisdom say, "I have learned to trust God to arrange the situations – the right place at the right time.  After God arranges it, it is my part to be the right person." Maybe you've felt disconnected.  Maybe your judgment or fear has pressed you to keep from connecting to another.  Maybe it's time to connect – truly connect – to the humanity of another who sleeps, who hurts, who feels, who laughs, who longs – just like you.  John seems to be saying in this letter: "I don't know how to explain to someone why they should care about other people."  But – he is incredibly clear:  It's the only way to discover who you truly are in Christ.
* * * * * * *
[1] http://www.newsweek.com/couple-mistakenly-takes-romantic-holiday-see-red-hot-chilli-pipers-not-peppers-805120
[2] As found in Eugene Peterson's Introduction to 1 John.  The Message. NavPress. 2002.
[3] https://www.nbc.com/this-is-us
[4] https://www.cbsnews.com/news/strangers-kidney-donation-sets-off-chain-reaction-of-good-deeds/