Galatians 5:1, 13-25

For freedom Christ has set us free. Stand firm, therefore, and do not submit again to a yoke of slavery. …
13 For you were called to freedom, brothers and sisters; only do not use your freedom as an opportunity for self-indulgence, but through love become slaves to one another. 14 For the whole law is summed up in a single commandment, "You shall love your neighbor as yourself." 15 If, however, you bite and devour one another, take care that you are not consumed by one another. 16 Live by the Spirit, I say, and do not gratify the desires of the flesh. 17 For what the flesh desires is opposed to the Spirit, and what the Spirit desires is opposed to the flesh; for these are opposed to each other, to prevent you from doing what you want. 18 But if you are led by the Spirit, you are not subject to the law. 19 Now the works of the flesh are obvious: fornication, impurity, licentiousness, 20 idolatry, sorcery, enmities, strife, jealousy, anger, quarrels, dissensions, factions, 21 envy, drunkenness, carousing, and things like these. I am warning you, as I warned you before: those who do such things will not inherit the kingdom of God. 22 By contrast, the fruit of the Spirit is love, joy, peace, patience, kindness, generosity, faithfulness, 23 gentleness, and self-control. There is no law against such things. 24 And those who belong to Christ Jesus have crucified the flesh with its passions and desires. 25 If we live by the Spirit, let us also be guided by the Spirit.  
There are two kinds of people in this world – those who want all the details and those who want none of them.  That's sort of a drastic dichotomy I suppose and life, in any matter, realistically exists on more of a spectrum than a clear cut, black or white reality. But you know this about people… and you likely know it about yourself. There are some who read every single line in the instruction manual about how to build something; how to use something. They probably even attempt to read the directions in French and Spanish just in case they missed something in the English. They want to know every detail and follow every rule and step with great precision. No sense in getting it wrong unnecessarily. And then on the other extreme – you've got the rebels – they don't need no stinkin' directions.  How hard can it be? Insert part "A" into slot "B" and you've got a masterpiece in front of you in no time.  Those remaining parts that you couldn't figure out where they were supposed to go probably weren't that important anyway.
I've seen this in plenty of psychological group-think experiments as well.  You get a room full of people, a couple of objects and minimal instruction about a task and then tell them to "Go!" "Do it!" "Create something." "Build something." Some are totally comfortable with the limited detail and in fact relish the freedom to not be so boxed in by the whole thing and others are immediately asking questions about where the boundaries are or how long they have or what else can they use to get this done.
I learned the hard way that sometimes the details are really important. The night I proposed to Carrie, I had this elaborate plan in place. It involved a fancy meal, a carriage ride, and a serenade downtown Indianapolis on the famous canal walk. We were in town visiting my parents who lived there at the time. Dad helped get my guitar into the right carriage downtown.  He cued the carriage driver to look for me at such and such time out front of the Eagle's Nest restaurant.  I had an eagle call and everything ready to roll. I got this new suit – the only suit I owned at nineteen years old and was ready to implement the plan. All systems "go!" And Carrie had zero clue any of this was going to happen. My secret operation was apparently too secretive. I had not made mention to Carrie that she might want to dress up for our outing and so she had not packed anything but casual clothes for the trip to Indy. Didn't matter to me what she wore – she looks great in everything. What's the big deal?  That morning when we were talking about the evening, she said, "So what are you wearing tonight?" "I'm going to wear my suit," I announced.  And the look of horror.  "Your suit? I didn't bring anything nice to wear."  I thought in that moment that this might not pan out well for me in the end. She ended up borrowing a dress from my sister and she looked fantastic
 – but – I came to realize that getting engaged in my sister's dress would not have been her preference.  She still said "Yes!" and I have learned to always specify dress code – that is a detail I no longer miss.
The Apostle Paul had a characteristically practical mind.  All of his epistles that we find in scripture, even the ones where he's soaring high in thought and theology, end on a practical note. To him, none of it really matters unless your theology can walk – it has to be livable or it was just a set of ideals. But – Paul's theology often got him on the edge of trouble with any number of folks.  In this instance, his movement from the reign of the law to the reign of grace always made it possible for some to say, "Well if all restraints are lifted, I can do whatever I want."  You've heard people say this when they're trying to work out grace in their lives… or more often when they're trying to work out grace for somebody else. You have surely wrestled with it yourself… I know I have.  It tends to be a "Yeah, grace, but.."  "Yeah, grace, but what about that thing, that rule, that behavior, that inclusion, that ethic, that …".  Have you played that game?   "Grace," some say, "means you throw out all the details.  Who needs 'em?"  That's not Paul's intent of course.  But he's found a new freedom in Christ and he's willing to risk the backlash from the detail-people.
"For freedom Christ has set us free," he says.  And imagine that freedom – Paul, a Pharisee giving up the 613 commands he spent his life learning, perfecting, upholding only to awaken to a new understanding that has far less detail – not making following any easier, but making it more relational. Rule keeping becomes transactional. Relationships are transformational. There was a guy named Tony who had a rigid upbringing in the faith –not unlike Paul's run as a Pharisee. Tony was good at the rigidity – he was 'killing it' as the kids like to say which means he did it really well.  It all caught up with him, however, after many global encounters with people of all kinds. Those encounters changed the way he studied scripture, the way he prayed, the way he considered judgment and grace.  Honestly, he was burned and ultimately burned out. After a mercenary stint as a "hired gun in the army of God," he was ready to just throw it all out. It was a bartender, of all people, who was hearing Tony out that had to stop him and say, "Tony – I see a God spark in you.  I don't know what you are supposed to do with your life but take it from someone who knows regrets: don't get out of the game. Leave that mercenary stuff behind, perhaps, but stay in and find another way to play."  Tony looked at him and knew he was right.  "I don't know how else to play," Tony said, but he committed in his heart this prayer: "I will try to stay available to God. I will try to play in a different way."[1]
This was Paul's commitment too. He was navigating new territory. He went from a PowerPoint-able understanding of faith to a spiritual freedom that was much less containable. Can't you imagine the days of struggle after he abandoned his post as a first-team Pharisee? Lots of haters on his Twitter feed. A wrestling with a new language and new understanding. Not nearly the details he was used to having. If you've ever had such a heart for God but led by the Spirit to radically alter your view of the faith, you know this journey.  And it can be exhausting. Sometimes you just need a nap. I preached an entire sermon on naps one time.
There was a story this week – long title but sort of says it all – "Teen and Cow Lose at State Fair, Take a Nap Together and Win Hearts of Millions Instead."  Here's the picture.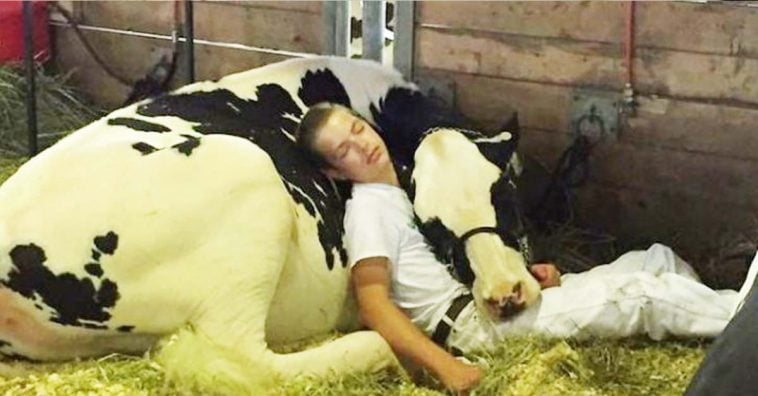 Isn't that something? Fifteen-year-old, Mitchell Miner and his cow, Audri, finished in fifth place out of seven at the Iowa State Fair despite their hard work and effort.  Exhausted, the duo took this nap together afterward. I hope Paul had a friend or a dog or a cow who, at the end of the day, he could just take a nap with… just be himself with… just find a comrade who knows he gave it all up and is trying this new thing with all his being because what he has come most deeply to believe about God. Paul doesn't have all the details… but he's trying to piece this life of faith in Christ together the best he can.
In this famous word from Galatians, he's trying to sort some of that out.  It is, in part, his response to the criticism that he's just winging it now that he's dumped all the laws he kept for so long.  "Live freely!" he says, "animated and motivated by God's Spirit."  And what is wrapped up in that motivation is the single commandment that holds all the others: "Love your neighbor as yourself." The critique is instant. "But what about this!" we protest.  "What about that!" we shout in contempt. Paul's retort is surely, "First of all… that was in the law and later Jesus' word as priority, not mine. You can take it up with him if you've got a problem with it. And Second of all – have you mastered loving your neighbor as yourself or do you still have some work to do in that regard."  "Well," we huff and puff – "but those people are just wrong."  "I know it's sticky," Paul says, "but this is the work we are called to.  And your freedom in this thing is not a free-for-all."  Paul goes into a list of things he names as choices and behaviors that are "obviously" no result of living the Spirit life. Bible compliers call this list the "Works of the Flesh."  The Message version of the Bible really lays these out bluntly.
"It is obvious what kind of life develops out of trying to get your own way all the time: repetitive, loveless, cheap sex; a stinking accumulation of mental and emotional garbage; frenzied and joyless grabs for happiness; trinket gods, magic-show religions; paranoid loneliness; cutthroat competition; all-consuming-yet-never-satisfied wants; a brutal temper; an impotence to love or be loved; divided homes and divided lives; small-minded and lopsided pursuits; the vicious habit of depersonalizing everyone into a rival; uncontrolled and uncontrollable addictions; ugly parodies of community." And he concludes, "I could go on."
Paul is saying, just because the details of Spirit living may be fewer, the heart of it is just as disciplined if not more so. Even what he names in these works of the flesh are not clear directives or ultra-clear details about what to eat, what not to eat, etc, etc, down to the nth degree of detail.  But look, he seems to say, if we're going to live by the Spirit, then we've got to be guided by the Spirit who will surely help us live a life that honors this greatest commandment of loving God and neighbor with the best we have. Does that make you nervous?  Do you want a little more detail in your religion than that?
I've been holding onto a quote of late that's speaking into my life.  It's a simple word but its implications are full.  It's simply this: "God doesn't give us all the details because God trusts us."  We are quick to say, "Trust God," but seldom have I had the courage to think, "God is trusting me."
When we get our driver's permit, we kind of like mom or dad sitting in the passenger seat, or even that Driver's Ed instructor, who is constantly saying, "Go there.  Don't do that.  Steer this way.  10 and 2."  All the detail.  But at some point, the instruction lessens and the trust takes over.
A man went flying with his 18-year-old son who had recently obtained his pilot's license. It was a two-seater, Beaver seaplane, designed to take off and land in the water.  They were flying over a small body of water up in the thick of towering Canadian mountains.  They wondered if it the pond nestled in the basin between these mountains was sizeable enough to land the plane. The father, a seasoned pilot himself who had landed in this water only once himself, sat in the passenger seat and simply trusted the training of his son.  His boy had never landed in this tight of quarters before but he'd had all the training and landed hundreds of times in more open waters. The father said, "When Adam entered the canyon, I didn't say anting.  When we started descending into the canyon, I didn't say anything. When he made his turn at the wide spot at the end of the lake, he nailed it. I didn't say anything.  As we made the final descent toward the lake, Adam threw the yoke forward. We were still fifty feet off the water when he flew past where I had previously landed. I didn't say anything. Adam landed the plane like a boss and we came to a stop. Adam had flown into that canyon as an eighteen-year-old, but when the Beaver touched down on the water he looked thirty-five. I looked like I was a hundred and twenty. The whole time all of this was happening, I was thinking this: Land. The. Plane."  What the dad said next was telling: "God isn't always leading us to the safest route forward but to the one where we'll grow the most."  His dad had already told him all he knew about doing this.  He didn't need any more instructions; he just needed to see that his dad believed in him enough to let him do it. He didn't need more words or to know what they meant in Greek or Hebrew.  He just needed the opportunity.[2]
Paul is saying this is true about our freedom in Christ. Building a relationship of trust with Christ is a relationship of want-to's not have to's. The best marriages and partnerships are ones that are want-to and get-to, not have-to oriented. These come with less details but deeper connections.  Do you trust your connection with God?  We've all probably made that stretch of wishing God would just shout, audibly, the solution to our concerns, the answer to our prayers, the right moves in connection to our greatest questions about what's next… seeking that extra nudge of confidence from God.  While we're waiting for God to say something, God may be waiting on us to do something.  Sometimes God speaks to us the loudest on the way. There is trust involved in this connection.  God knows what truth and experience we've gleaned over time. God has seen us when we've succeeded and been there when we've failed.  What may seem like God's silence, may more readily be God's silent nod like a whisper saying, "You've got this."  This lack of detail doesn't remove all the risks… but that is the nature of trust. God knows without risk, we can't grow. We don't tend to grow in seasons of comfort but rather in seasons of challenge. This stillness is God's quiet confidence.  Sometimes even our tiny shuffle forward, God is right there saying, "I love you. You're enough. You've got this…"
just like your parent was the first time they let go of the bike you were learning to ride without training wheels. What big idea do you have that you've not pursued because you didn't know if it would work? Where have you feared rejection, so you stayed put? What final details have you been waiting on before trusting God with your "Yes?" What if God is right beside you, confident that you know all you need to know and simply whispering, "Land the plane."
If you expect any fruit in your life, you've got to plant the seeds. You've got to put yourself out there a bit in faith. You've got to risk a bit on what it means to love God and love your neighbor.  You've got to use your freedom in Christ to cultivate trust and hope and possibility.  When we do, Paul says that our lives will start to reflect such a trust like fruit growing in an orchard. He calls them the fruits of the Spirit.  You'll start to find you have a growing capacity to love others.  You'll find a joy that holds you steady where your pursuit of happiness was fleeting and all over the map. You'll be grounded in peace, grow in your patience and be more inclined to acts of kindness. Generosity will flow more naturally. Your faithfulness and gentleness will increase. Discipline and self-control will be growing gifts in your life. "You live by the Spirit," Paul says, "and the Spirit will guide."
Maslow's "Law of the Instrument" says, "If all you have is a hammer, everything looks like a nail." The law that Paul knew forward and backward was much like a hammer and everything was clearly a nail. You just used your hammer on everything. But freedom in Christ calls for us to add new perspectives and tools and ways of being that rely much more on trust than detailed instruction.  What are you hammering right now that may need a different approach?  It's not a question of wanting all the details or wishing for none of them.  It's a matter of trusting God with the details and being faithful in what we already know about love.  Live in that Spirit and the Spirit will guide… and that will be all the detail you'll really ever need.
[1] Neighbors and Wise Men. Tony Kriz.  Thomas Nelson Publishing. 2012.
[2] Everybody Always. Bob Goff. Thomas Nelson Publishing. 2018. Chapter 14 – Land the Plane – was most influential in this message.  The story and following theological consideration concerning trust and 'details' are inspired by Goff's work in this chapter.