Text: Matthew 16:21-28
Theme Verse: "If any want to become my followers, let them deny themselves and take up their cross and follow me." (Mt 16:24)
They are popular Facebook memes and witty ripostes at cocktail parties. A sudden putdown when an apparently positive statement is ridiculed by a simple addendum: "Said no one ever!" For example, "Those socks really look great with your sandals -- said no one ever!" Jesus was an artist when it came to saying things that no one had ever said before. His teaching was hard. His expectations demanding. His grace, bound by no human measure. This reading from Matthew's gospel is full of "said no one ever" teaching. But… Jesus did say them and we are left to ask, "What are we to do about it?"
anthem : 'Idyll of Praise' (C.Courtney) :: Kelly Ford, tenor; Susie Monger-Daugherty, organ
reader : Roy Peters
preaching : Rev Mark Briley
closing : 'Holy Spirit You Are Welcome Here' (K.Jobe) :: The Rising Band
Sarcasm.  Most of us have a love/hate relationship with sarcasm.  There's nothing about this form of speech that is uplifting or encouraging.  Typically, it is used as a form of mockery.  It can be crude, harsh, and judgmental. Getting your intent across, when it comes to sarcasm, is much easier with the spoken word.  It's all about the inflection of your voice.  And, we all know someone who tends to overuse this manner of speech.  It can be totally demeaning and hurtful so I'm not promoting the use of sarcasm as the most virtuous form of communication.  But our culture, through the years, has enjoyed the use of sarcasm to lighten some otherwise bluesy moments of life.  Twenty-five years ago, the sarcastic rage was the big use of the word, "NOT!"  Mike Myers and Dana Carvey popularized the concept in their movie Wayne's World.  You would simply make a statement of most any variety and invalidate it immediately but shouting, "Not!"  "Mom said you can eat as much Halloween candy as you want… NOT!"  "Episode 1, the Phantom Menace is the best Star Wars movie… NOT!"  Kid's wore shirts to school that simply said the word, "Not!" on the front of it.  And those kids were the coolest… NOT!  — see how that works.
The "Not!" of the 90's resurfaced in a new way in the last year, especially through the popularization of the use of Meme's on social media.  The word "Not!" was replaced with the phrase, "Said no one ever!"  Same sarcastic punctuation on the end of some catty statement.   For example, and maybe you can help me out by completing these statements: "I'll wait to eat this popcorn until the movie starts… said no one ever."  "Those socks look really great with those crocs…  said no one ever."  "Your Facebook status really made me change my political views… said no one ever."  "I'm having way more fun in worship today than all those people who are water skiing this morning… said no one ever."  Really?  That was supposed to be a trick question.  Now that just hurts my feelings.  Now, before you get all excited to try this out with your friends, it's probably worth me sharing this meme with you: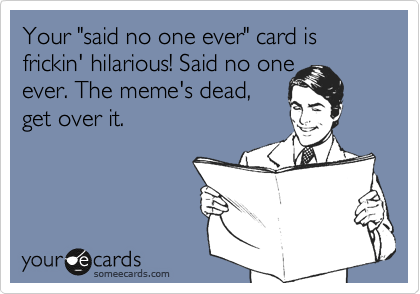 Perhaps.  So much moves in and through and out of the cultural vernacular in no time.  We speak in 140 characters at a time and the thought of a Friday night on the porch sipping sun tea and telling stories that tickle the memories of another time are seemingly unfathomable.  Even so, it seems Jesus was an artist when it came to saying things that no one had ever said before.  His teaching was hard.  His expectations demanding.  His grace, bound by no human measure.  Today's reading from Matthew's gospel is full of "said no one ever" teachings.  But… Jesus did say them and we are left to ask, "What are we to do about it?"
These seven verses from the sixteenth chapter of Matthew come as a startling reminder that Jesus' ministry was not without challenge. Sometimes those challenges were posed by those closest to him.  Life is confusing this way, isn't it?  Anytime we're considering the biggies like, "Who is God?"  "What is my purpose?"  "How do I know what to believe?", it's easy to get lost in the nuances of it all.  Just before this particular passage, Peter confesses Jesus' messiahship in a life-altering way.  Jesus says, "You're right but I'd appreciate it if you don't mention it again."  What?  Jesus also says to Peter, "I could build my church with a leader like you."  And they walk a little further.  Peter is clearly prominently revered by the tribe and by Jesus himself.  As the stroll continues, however, Jesus begins a string of "ands" that totally dumbfounds Peter.  Jesus said, "I'm going to go to Jerusalem and suffer at the hands of the elders and chief priests and scribes, and be killed, and on the third day be raised."  Peter must have been like, "Slow down, Jesus.  You're talking crazy!"  And, on a quick reading, our inclination is to chastise Peter a bit.  Peter has rightly proclaimed Jesus to be the Messiah but in the next breath he wants to tell Jesus just what kind of Messiah he can be.  Peter says, "You are the Christ!" but when Jesus details what comes along with that designation, Peter says, "Back up, hold on, sit down, let's talk about this.  That stuff ain't happening!" I don't know about you but more than a few times I've been that version of Peter.  "Jesus, I believe you're the Messiah but…"  I believe you're the Messiah but don't make it too hard for me to follow you.  Don't make me uncomfortable.  Don't make me love people I can't stand.  I believe you're the Messiah but that forgiveness nonsense – not happening.  I believe you're the Messiah but I know better about what's needed than you – let me take care of it.  Do you ever tell Jesus what kind of Messiah he can be?
Peter's rebuking of what Jesus says is coming is not nearly that harsh in the Greek language used in this passage.[1]  The word used for Peter's rebuking of Jesus literally means gracious.  This means Peter's response to Jesus' foreboding predictions of suffering and death may read more closely to "Might you be granted grace for being incorrect" or "May God be gracious to you and not let this occur." And this word is followed by Peter saying with a great sense of sincerity – "I truly desire that this will not happen to you."  This seems more sensible, doesn't it? "Jesus, that sounds awful.  I love you.  Is there any way this cannot happen?"  It sounds more like the statement of Jesus in the garden, "God, if there's any other way let me know but… not my will but yours."  Peter's wish is that of any of us who would be protective of people we love.  And Jesus responds with the "Get behind me Satan," which seems harsh but could also be reflective of the same words he uses in the wilderness when he faced temptation from the devil. "I'm tempted to abandon this reality," Jesus could have been intending with this words but all signs point toward this incredible suffering ahead.  It's all a matter of interpretation, of inflection – sort of like sarcasm.  I don't pretend to know for sure, but it is interesting to entertain the various possibilities.
What is clearer is what Jesus says next: "If you want to follow me, you've got to deny yourself, take up a cross, and follow my path." … "I can't wait to deny myself… said no one ever."  That's one way to gain a big following, right?  Put up a huge billboard that reads, "Deny yourself!"  People will flock in groves to join the effort.  No… most every billboard I can think of expresses the exact opposite: "Indulge yourself!"  It is the normative behavior in relationships at work, at school, in our neighborhoods.  Put our own interests ahead of others.  We, as a society, fuel this reality and then we lay it against Jesus' call for self-denial wondering why it's so hard to take up a cross.  And what is that, anyway?  All of this "take up your cross" business.  It is rather serious.  It was a life and death statement Jesus was making. And all the people of God took a big gulp.  It does raise a big question?  What are you willing to die for?  What message, what statement, what person, what ideology would you hang on a cross for?  I know it's a tough question and may seem to you to be in the realm of "What would I do if I won the lottery?"  I mean, how many crosses do people actually die on these days?  Most of us are privileged to not worry about such a literal reality.  But dying to self for the sake of the Gospel is challenge enough.
The apostle Paul acknowledged this necessity: "I die every day," he wrote to the Corinthians in his first letter (15:30). Every day. A death. A denial. Dietrich Bonhoeffer, German theologian and Christian pastor who died on the cross of his stand against Nazism, wrote in his famed "Cost of Discipleship" – "When Christ calls a man, he bids him come and die."  Is this what Jesus is talking about?  Crosses were quite visible in the days of Jesus.  The disciples would have clearly understood the reference even though they probably didn't assume it to be literal.  At minimum, they could understand, as can we that Jesus intends for his followers to embrace those things that incite the self-denial response.  Jesus said, "Deny yourself" and "Bear your cross."  The first statement may be more of a passive call to self-denial and the second statement an active call to self-denial.
I had lunch with my son at his school one day this week.  I sat across from one of his classmates whom I got to know a little bit. His name is Acksel.  My immediate response to him sharing his name with me was to half-sing, "Welcome to the jungle" which was lost on him.  If it's lost on you too, Axl Rose was the front man of the rock band Guns 'n' Roses which was popular when I was in school.  He was the first Acksel I had ever met.  After he spelled it for me, however, I don't think his parents were Guns 'n' Roses fans either.  But… I digress.  We played the game many kids like to play.  "How old do you think I am?" he asked me.  I gave the obligatory time to squint and hem-haw around a bit before guessing, "9!"  He was amazed at my age-guessing skills though knowing I was at a table with 3rd graders, I felt pretty good about my guess.  Acksel is clearly a sharp kid.  I asked him what he wanted to be when he grew up and without hesitation he said, "An engineer and inventor."  I have a feeling he is well on his way. Further conversation revealed, to me at least, a sense that Acksel believed you can't help what gifts you have but you can help what you choose to do with them.
All to say, Acksel helped me affirm the idea that we should never feel we are without opportunity to deny ourselves and take up a cross.  That's what disciples do.  Do you have a hard time loving and befriending a certain person?  Love them and befriend them.  Is it hard for you to use your financial resources to bless somebody else?  Find two people to bless and do it.  Is it hard for you to "bless those who persecute you and say all manner of things against you?"  Bless them, pray for them, partner with them in some way that brings about love, not hate.  The payoff is life. Jesus says it plain as day in verse twenty-five.  "Deny yourself for my sake and you'll find yourself."  When's the last time you found yourself?
I road in the passenger seat one day this week.  It made me realize how much of the driving I tend to do in my life.  A friend picked me up.  He is such a smart man, wise in all the ways I hope to be some day.  We talked about Quantum Physics (okay – I mostly listened), and the beauty of an unfolding rose, and Mercy Ships, and — and — finding oneself.  I sat in the passenger seat and recognized I was doing too much of the driving and not soaking enough life in from the passenger seat.  I'm grateful for this friend who has countless ways of showing you the world.  Finding yourself through self-denial does not mean taking zero account of yourself.  It's deeper than that.  It's about denying the surface self – the external things you promote to the world as you, into the depths of your soul to the God part of you that sees your authentic self and finds way to bring that self to the world.  Your authentic-self, your Christ-in-you self, denies that surface self which also denies the surface-selves of others.  It reveals true connection, true compassion, true heart.
We've all watched in horror as images of the power of water in south Texas have crossed our eyes.  Nearly everyone I have run into this week has said, "I have a sister there," or "I counted fourteen family members in the path of Harvey" or "My friends," "My kids," etc, etc, etc.  It's tragic.  We have, and will continue to, communicate the best ways that we can help in the recovery effort which will be going on for years.  Even in such tragic times, our responses have tended to be judgmental or political.  It is as if we've even lost our capability to empathize in suffering together as a nation.  Courtney shared with me some written words from a friend of a friend of hers named Mike Kinman who was formerly a rector at Christ Church Cathedral in St. Louis.  He called his personal feelings and motives to account in a poignant way.  He said, "I was tempted to feel judgmental about Joel Osteen and his closed church. And then I remembered that my church closes its doors at night while people sleep on our steps. I remembered that I have a spare bedroom in my house (not to mention the one that is empty while my son is away at college) while someone sleeps in my parking space at church.
I was tempted to feel judgmental about Melania Trump and her high heels. And then I remembered that I wear a nice suit on Sunday morning as I walk by Don, who sleeps in my parking space most Saturday nights.  And we have our reasons for these things. And they are reasons that are sensible and involve values like public health and safety. Reasons that are practical and understandable to "respectable" people. But, if we are honest with ourselves, it's more than that, too.
I struggle with these facts and know that struggling is not enough. Paul reminds us that "all have sinned and fall short of the glory of God;" and that, thankfully, God's love for us is not contingent on that. And yet as I strive to give myself fully to God and ask God to use me generously, boldly and lovingly, I know how much I, I know how much we, resist God's call to love radically in ways that discard the world's conventional wisdom. So I wonder if you, like me, are tempted to feel judgmental about Joel Osteen and his closed church, or Melania Trump and her high heels.  [What if,] instead, we look at what ways we might — right where we are — open ourselves up to God loving the world more radically, boldly, generously and empathetically through our churches and through our lives.
The flood waters will recede in Houston. Clean-up will happen. And there will still be people in our own families and communities who are living as refugees. And their name is Jesus."
Taking up your cross, my cross, is a daily practice.  Luke's version of this story in his Gospel account actually uses the word 'daily' to describe this practice of self-denial.  We can wake up every day and ask in prayer, "What is my cross today?" We've grown very good at identifying crosses for others to bear but "What is mine today?" is ours to ask.  Thomas à Kempis wrote, "If you bear the cross gladly, it will bear you".   This cross is not an illness or a chronic physical problem you have as difficult as enduring such suffering may be.  Cross-bearing is a voluntary act of discipleship.  We choose it.  Cross-bearing always involves the "taking up" part.  It is a self-denial we can pass on by or a self-denial we choose in the name of following Jesus.
I know this is a tough text. "Being a follower and disciple of Jesus is easy! … said no one ever!"  It's not easy; not in the slightest.  But it is meaningful and it is the way to finding yourself.  Doing so will make your life better and, in my estimation, will make us better at life.
* * * * *
[1] The exegetical commentary utilized here is connected to the work of Bob Kaylor, Senior Writer for www.homileticsonline.com, a homiletic resource that utilizes the revised common lectionary.  The development of the "Said No One Ever" motif was also inspired by the same work.
[2] Mike Kinman's original Facebook post : https://www.facebook.com/mike.kinman/posts/10101745889994254