Luke 14:15-24
One of the dinner guests, on hearing this, said to him, "Blessed is anyone who will eat bread in the kingdom of God!" Then Jesus said to him, "Someone gave a great dinner and invited many. At the time for the dinner he sent his slave to say to those who had been invited, 'Come; for everything is ready now.' But they all alike began to make excuses. The first said to him, 'I have bought a piece of land, and I must go out and see it; please accept my regrets.' Another said, 'I have bought five yoke of oxen, and I am going to try them out; please accept my regrets.' Another said, 'I have just been married, and therefore I cannot come.' So the slave returned and reported this to his master. Then the owner of the house became angry and said to his slave, 'Go out at once into the streets and lanes of the town and bring in the poor, the crippled, the blind, and the lame.' And the slave said, 'Sir, what you ordered has been done, and there is still room.' Then the master said to the slave, 'Go out into the roads and lanes, and compel people to come in, so that my house may be filled. For I tell you, none of those who were invited will taste my dinner.'"
*
Any Seinfeld fans in the house today?  A little test about your fandom.  Can any of you name the line that defined the 116th episode of the show which aired on November 2, 1995?  Anyone?  It's only four words but those words alone earned actor Larry Thomas an Emmy nomination for this guest role.  The line?  "No soup for you!" 
 Thomas' character was known as "The Soup Nazi" which was also the name of the episode. The plot line follows Jerry, Elaine, George and Kramer and their struggles to stay on the good side of Larry Thomas' character so that they could enjoy his most delicious soup.  One false move, however, and The Soup Nazi held a forever grudge.  Try to order soup after crossing that line and you would receive that harsh, famous line, "No soup for you!"  Of Seinfeld's run of nine seasons and 180 episodes, "The Soup Nazi" ranks second on the list of most popular episodes of the series.  Larry Thomas called it, "The easiest four days of work I ever did."[1] Why so popular?  Funny, yes, but why?  Is it because we like the authority to deny another something they seek – even if it's simply a bowl of delicious soup?  Perhaps.
It's World Communion Sunday today – which sounds rather prestigious doesn't it?  Put "World" in front of anything and it just ups the magnitude of the whole thing. World's Greatest Cup of Coffee. Ron Artest even changed his name to Meta World Peace.  World Communion Sunday was first recognized in 1933. Launched by the Presbyterians, other Christian traditions, like the Disciples of Christ, joined in the celebration as sign and symbol of unity in Christ and ecumenical cooperation. It is a day that celebrates an Open Table – one where Jesus remains the host and a wide invitation is cast to any and all who will share in the experience.  There is no Communion Nazi who will deny Christ's welcome to this sacred meal.  While that may seem obvious to some, many a tradition have worked to restrict who can participate in communion and who cannot.  In fact, such denial was a key component in the origin of our denomination.
209 years ago and one week,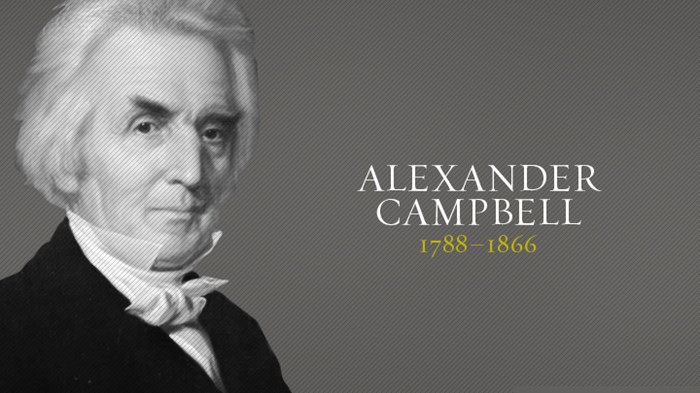 Alexander Campbell migrated to the United States, a Scots-Irish immigrant, with his family.  He and father, Thomas, would be two key founders of the movement that became the Christian Church (Disciples of Christ).  Coming out of the Presbyterian tradition, the Campbell's wrestled with a number of the practices of the church.  One that stuck out more than most, perhaps, was the practice of communion. The church had created an elitist practice when it came to communion which essentially resulted in only the privileged wealthy being invited to share in communion.  Church leadership would give them tokens which had to be presented before receiving the elements.  No token – no communion for you.  The pivotal moment was captured in a poorly produced video I watched as a child, learning about our denomination.  It was a low budget production.  Tom Hanks did not play Alexander Campbell, okay?  But the point was clearly made.  Alexander Campbell is standing in line to receive communion, with great angst by what had become such a restrictive experience – not the freedom flowing, grace-filled salvific experience he believed was the first intention of Jesus.  And so, when Campbell reaches the front of the line, and with great drama of a made-for-tv movie, he slams his token down on the Table and walks away.   The music swells, the camera shot widens, and behold, something new was taking shape. That was the beginning moment of our denomination; a movement that would be defined by an Open Table where any and all were invited to share in the meal.  The invitation belongs to Christ, and is not merely our own.  This is why Disciples churches have communion at every worship service and why the Chalice is the symbol you'll see on Disciples church signs.  The Table defines what we most deeply value – that the love of God, in Christ, is a wide invitation; open for any and all people who will come.  The invitation is yours today.  Will you come?  This I know, we don't always come, even when we're invited.
Sometimes we decide we're too busy and utterly exhausted. Think about some of the invitations you've likely received. Even when the invitation arrives in the mail and you marvel at the picture of the graduate, or engaged couple, or bouncy house or high school classmates, you pause and sigh, wondering if can possibly go. You cross-check the family calendar.  She can attend.  He's got an appointment. Could that be changed?  It's the night before that other commitment and right on the heels of another one yet the smiling face on the front of the invite seems to say, "What do you say?" You pick up the pen and place it in the box marked, "Regrets" and "X" marks your reality. Legitimate excuse or not, you're out.  Now, I want to say that "No." is a complete sentence and should always be an acceptable answer when you're trying to balance schedules and navigate your life and often the lives of others.  We can't be everywhere for everything with everyone at all times.  But it's a spirit check that may be most important in your "No."  And this is why Jesus tells this story of the Great Banquet.
Jesus has just finished teaching this great word about humility and hospitality.  "Put your guests in the seat of honor," he says. "Take the worst seat at the table for yourself and invite others to move up to the better seats."  He offers the great line, "For all who exalt themselves will be humbled, and those who humble themselves will be exalted."  Jesus also gets a little more preachy when he says, "Don't just invite your friends and the wealthy folks who can return the favor.  Invite the poor and those who can't repay you. Check your motives," he says.  And then this parable about the Great Banquet follows, starting by one of the dinner guests who apparently didn't get the point Jesus was trying to make.  "Ah," the man says, "I can't wait to eat the bread in the kingdom of God."  I think Jesus blank stares the guy for a second, scanning the rolodex of his mind thinking, "Hmmm… how can I put this."  What Jesus knows is this guy, probably a decent guy by any account – we don't have any reason to believe otherwise – is holding a traditional view that Jesus was challenging.  What Jesus was just teaching him flew right over his head or, perhaps worse yet, the man just scoffed it off as nothing to take seriously.  The traditional Jewish view at the time was a particular picture of what would happen when God broke into history, ushering a new, golden day of the new age. The greatest picture was of the Messianic banquet.  A banquet where God would serve a feast to those who had a token, if you will.  The average, orthodox Jew would have never dreamed that gentiles and sinners would find a place at the feast of God.  Let this be a note we may consider ourselves.  About the time you feel like you have a corner on who's in and who's out and put yourself in some position of privilege, imagine Jesus giving that same blank stare thinking, "Hmmm… how can I put this."  And… through the gift of time and preservation, we know how he put it:
A man threw a giant dinner party and sent out a wide invitation.  "Y'all come!" it said, and many thought they would. And because a group text or E-vite wasn't available, the practice was for the party host to send out a servant on party day to round up the guests telling them that everything was ready.  As Jesus tells the story, the servant was met with a myriad of excuses. "I've got some new property," the first person says, "and I'm going to go check it out. Sorry."  The second excuse?  "I've got some new cattle, or the latest iPhone, or a snow mobile (or whatever new thing you might get that you are excited about) and I can't get enough of it right now.  Send my regrets to the host."  The third excuse is maybe the most honest of all.  As plainly as can be said: "I just got married and therefore I cannot come."  Wife says we're out.  Spouse has a thing.  Now for all you who use your spouse as your top excuse to get out of things, know that this was actually a Jewish mercy law.[2]  Newlyweds couldn't be sent to the army or bothered to conduct any business for a year. They were simply to enjoy each other's company for an entire year.  Can you imagine?  Sounds good to me!
Now, many of us understand full schedules and we regularly extend grace to each other when we can't make it to everything but Jesus is getting at the spirit of things here from two sides.  The first?  Check your priorities.  That which gets your time, owns your spirit.  We're all culpable in this at times and in various ways. Jesus is constantly inviting us into the kingdom life – not simply an invitation to attend but deeper than that – to be a participant in making a difference, growing in love and grace, seeing that someone else is uplifted because you cared enough to serve.  We all have our vices or choice excuses of the heart and we need to check those.
But today, we consider that second side.  The wide invitation of the host.  The servant brings all of these invites with the "Regrets" boxes checked and the party host says, "Well… I guess we'll have to widen the invite list.  Take a second lap and invite these folks and those people and that group."  The servant does so, returns and says, "We got a few but sir, there is still more room."  "Alrighty then," the host says. "Game on.  Every. single. person. Gets an invite," like he was Oprah or something.  In so doing, Jesus does that thing he always seems to do with his stories.  He zings the inside crowd a bit – the excuses bit in this instance.  He presses your comfort zone a bit and then he finally just blows you away with something offensive like, "Invite your in-laws and enemies and people of other faith traditions or no faith tradition at all. Invite the people with the wrong political signs in their yard and the radical bumper stickers and even the telemarketers." Jesus does this constantly.  Constantly!  And yet we continually position our Jesus in a way that benefits us most… or at least makes us most comfortable.
We do this with our politics right now in a big way.  Whatever our political flavor, we attempt to stuff Jesus into that same ballet box.  When I consider the behavior I see in our politicians and see the Christian community try to wiggle our way into justifying such language and action as something Jesus would endorse, my skin crawls. I know there are great political differences represented in this room and we all have our reasons for reaching those positions.  What I'm looking for most is some good character.  I want my children to look at the highest positions in the land and experience a voice of kindness and justice for all people, not mockery and bullying.  If there's a process, then let the process play out. To mock anyone, regardless of your take on their claims, should not be praised, encouraged or rewarded.  Jesus, constantly came to the aid of the one without power to lift them up and restore their dignity.  This isn't always convenient, particularly when we are one in the privileged position, but it is the way Jesus responded time and time again.  I confess that I have chosen a comfortable Jesus at times rather than the Jesus who pushes me to care more for the least of these, include those I've deemed unworthy, and speak up for those who are not being heard.  Whether we think our kids and grandkids are paying attention or not, I believe they are listening to you and me in this regard.  How do we truly imagine the voice of Jesus speaking into today's toxic climate?  I can promise you that party line would not be his starting point. Dare I say it shouldn't be ours either?
But now that I've made everyone in the room uncomfortable, I want you to imagine the people at the dinner table with Jesus when he tells them this story.  They were very uncomfortable. He didn't tell it to get a big laugh or to entertain the company, he shared the story to jar their hearts and minds – to see that the kingdom he's professing isn't going to toe the line as we all might prefer. He tells the story to bring discomfort for it is often in such discomfort that we get real with ourselves about motive and preference and priority.  The Kingdom of God was not only for those who think like us, look like us, and vote like us.  It would not be an elitist club whatsoever. It would be a beautifully diverse community with an invitation that is spread wider day by day. It's why we put zero restrictions on this Table as many are apt to do.  And I know it can get messy sometimes.  Would you believe that I get the most grief in ministry from people about such a wide invitation?  It's as if the desire is to narrow God's extravagant love – yes perhaps wide enough to "save a wretch like me" – but not all of those other wretches. Whether we want to or not, we end up memorizing what we do repeatedly. We imprint on our soul what we do over and over again.  It's our factory's wiring. And because we're made this way, it's a good idea to pick actions worth repeating.  Bob Goff says, "People who are turning into love do this." As Jesus followers, we are to become love itself.  So often, we've memorized judgment instead.  What if we memorized grace?  Could we become grace?  Only way to find out is to practice… and if Jesus says anything with this story, he says… get the invitation out there… spread it wide… and be gracious to all even when they don't see it the way you do. Our very Table breathes this message.
Writer Sara Miles, totally new to the church a couple of decades ago, remembers her very first communion.  It was a totally foreign experience.  She wandered into an Episcopal worship service in San Francisco even as she admits, "I had no idea what Episcopalian meant." It sounded like a dietary preference more than anything.  "We sat down and stood up," she said, "sang and sat down, waited and listened and stood up and sang, and it was all pretty peaceful and sort of interesting.  'Jesus invites everyone to his table,' the woman announced, and we started moving up in a stately dance to the table in the rotunda.  It had some dishes on it, and a pottery goblet. And then we gathered around that table.  And there was more singing and standing, and someone was putting a piece of fresh, crumbly bread in my hands, saying "the body of Christ," and handing me the goblet of sweet wine, saying, "the blood of Christ," and then something outrageous and terrifying happened.  Jesus happened to me."
Sara Miles couldn't explain that first communion.[3]  The disconnect between what she thought was happening – eating a piece of bread and what she heard someone else say was happening – the piece of bread was the "body" of "Christ," she noted this to be patently untrue or at best a metaphorical statement. The drink, clearly wasn't blood; it was Angelica fortified wine, 18 percent alcohol, from a green screw-top bottle which she once saw when she peeked into the church kitchen.  It was all a bit ridiculous but she said, "All I knew was – God, named "Christ" or "Jesus," was real – utterly short-circuiting my ability to do anything but cry."  It was her first experience in worship.  Her first trip to the communion table. Her first taste of church. She was moved and thought she might give church another try.  She wondered if she should church shop a bit but said, "Any criticisms of St. Gregory's may have been true but I was able to see, somehow, even from the beginning, that any church was going to be disappointing.  Wherever I went, I'd have problems as well as glorious epiphanies.  [And the most important line she says next] Wherever I went, I'd have to meet myself, and other people, if I wanted to get closer to God."
She could have been denied the communion invitation.  She could have scoffed it off as something weird and ridiculous. She could have said, "These people are different from me and therefore have nothing to offer."  But she received an authentic invitation to come to the banquet and do you know what she did because of that wide-open invitation?  She started a food pantry, which offers free, fresh groceries to 400 families each Friday, right around the altar at St. Gregory's Episcopal Church in San Francisco;
 the very Table where she was humbly invited and received for the first time, the gift of encountering Jesus.  The Food Pantry builds community and empowers people to work together and share food with the neighborhood. There's not much bureaucracy.  They don't ask hungry people to fill out forms or prove that they are deserving.  "We're strong on participation," Miles says.  "Most of our volunteers are folks who came to get food and stayed to feed others. They welcome everyone to the table––disabled workers, retired grandparents, homeless gay teenagers, middle-aged cleaning ladies, long-time San Franciscans and new immigrant families from all over the world––and they invite everyone to pitch in.  Our volunteers speak a dozen different languages. Some are young and strong, some old and sick; some live in houses and some on the streets.  But at The Food Pantry, every Friday, we share the privilege of doing meaningful work together, and feeding our community."[4]  How's that for a wide invitation?
You, my friends, are also invited.  Whether today will be your first communion or you've teethed on this Table since childhood, somebody without knowing your every circumstance or failure or past or voting record said, "This is the Lord's Table… the invitation is wide… and we'd be honored if you came."  How could we be more present to this invitation?  How could we take the Spirit's work in us most seriously?  How could we extend the same invite that's come our way to someone else?  You can. You simply have to invite them. And when we're faithful in that, you just never know what might happen.
Even The Soup Nazi changed his tune.  Larry Thomas hit the road seventeen years after the airing of the episode that made him famous. He used the character to promote soup kitchens for the homeless.  He drove the "Seinfeld Food Truck" across the country and handed out free soup along with Snapple, which was another Seinfeld-related item, to those in need.  Many were fed.  No one was turned away.[5]
You, too, have been invited.  No matter what you've done or who you are, there's a place for you. My only request, and best I can tell, the only request Jesus makes?  Leave the excuses behind. Be present at the Table and cast a wide invitation for others to come too.
* * * * *
[1] https://en.wikipedia.org/wiki/The_Soup_Nazi
[2] William Barclay.  Commentary on the Gospel of Luke.  Westminster Press. 1975.
[3] Story as shared in Sara Miles book, "Take this Bread." Random House Inc. 2008.
[4] https://sara-miles.squarespace.com/the-food-pantry/
[5] https://en.wikipedia.org/wiki/The_Soup_Nazi